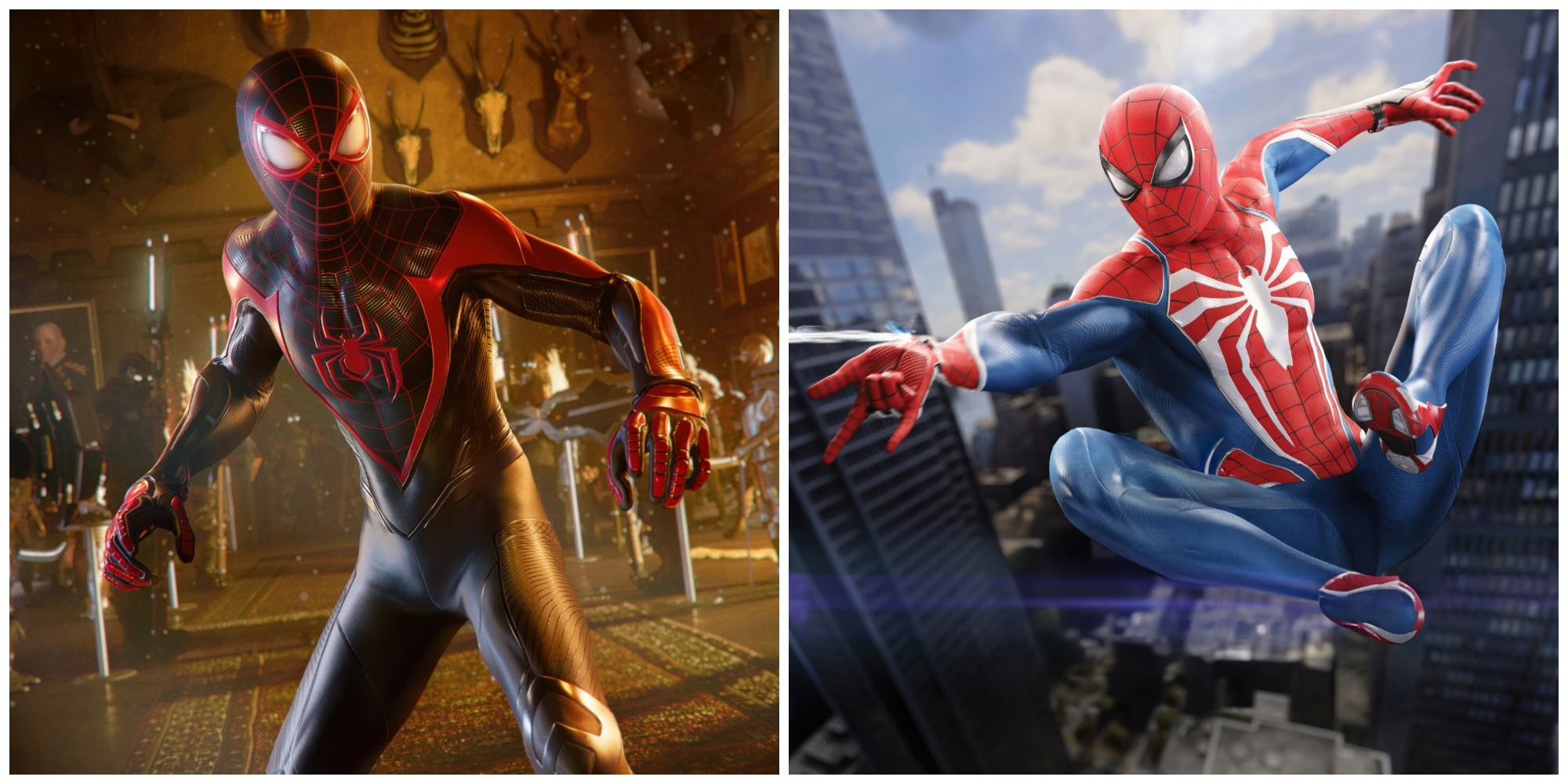 Highlights
Claims from an early player suggest that Marvel's Spider-Man 2 may be a relatively short experience, with the player achieving a platinum trophy in just 30 hours of playtime.
Despite the potential shorter playtime, Spider-Man 2 is expected to be a larger game in terms of file size and map size, featuring both Peter Parker and Miles Morales as playable characters.
Marvel's Spider-Man 2 is set to make a lot of superhero fans very happy when it debuts later this month, but recent claims from one early player are casting some suspicion on the game's length.
As posted Sunday on Old Reddit, the player, who goes by the Reddit username ndumbik, claimed to have already achieved a platinum trophy for Spider-Man 2 after only 30 hours of playtime. The player's post also includes an image (albeit a rather blurry one) that seems to back up their claims of achieving platinum, which for those not in the know, typically means completing 100 percent of achievements in a game on a PlayStation console. While the screenshot is not in English, we'll avoid showing it on this site anyway for those who want to avoid spoilers, but you can find the Old Reddit post here.
RELATED: Gwen Stacy Will Not Appear In Spider-Man 2, Says Narrative Director
If the player's claim turns out to be true, it could be an indication of Marvel's Spider-Man 2 being a relatively short experience, which wouldn't be too far out of line with its previous entry. As per DualShockers' analysis, the original Marvel's Spider-Man's main story took about 17 hours to complete, while casual players who want to do more than just the main story may take about 25 hours for a playthrough. However, to achieve platinum, we estimated the game would take about 34 hours, just a few hours more than what the Spider-Man 2 player claims to have accomplished. The quasi-sequel, Marvel's Spider-Man: Miles Morales, takes about seven and a half hours to get through the main story and 18 hours to reach platinum, per our estimate.
However, Spider-Man 2 is expected to be a much bigger game than the original, although whether that size translates to the actual length of the game has yet to be seen. It comes with a whopping file size of 98GB, as was revealed in a leak at the end of August, and in a State of Play released two weeks ago (available for viewing above), Senior Creative Director Bryan Intihar said that the game's open-world map has "nearly doubled in size" since the first game. Not to mention, you'll be able to play though the game, or at the very least, sections of it, as both Peter Parker and Miles Morales.
Some people reading the claim showed skepticism at the time reportedly needed to reach platinum, such as one person who questioned whether the player only had access to the first act of the game. However, another was familiar with the quick time that the player had previously posted for reaching platinum in God of War: Ragnarok—46 hours—so it's possible that this particular player is just a very effective speedrunner and that Marvel's Spider-Man 2 will have just as much content, if not more, than its predecessor.
We'll have a clearer picture of how long it takes to complete and reach platinum in Marvel's Spider-Man 2 when it releases exclusively on PlayStation 5 on October 20.
NEXT: Spider-Man 2 Looks Like A Movie I've Already Seen Twice
---